DESERT CAMP BOUCHEDOR
You arrive at desert camp bouchedor by dromedary caravan to reach the bottom of the dunes of the Erg Chebbi desert. Dinner and then around a campfire spend an evening listening to desert songs of the touaregs.
In the desert of Erg Chebbi at the edge of the Sahara, close to the village of Merzouga, is Desert Camp Bouchedor. The camp blends traditional Berber design with modern comforts with eight luxurious tents, all with en-suite bathrooms and hot and cold showers powered by solar panel generated electricity.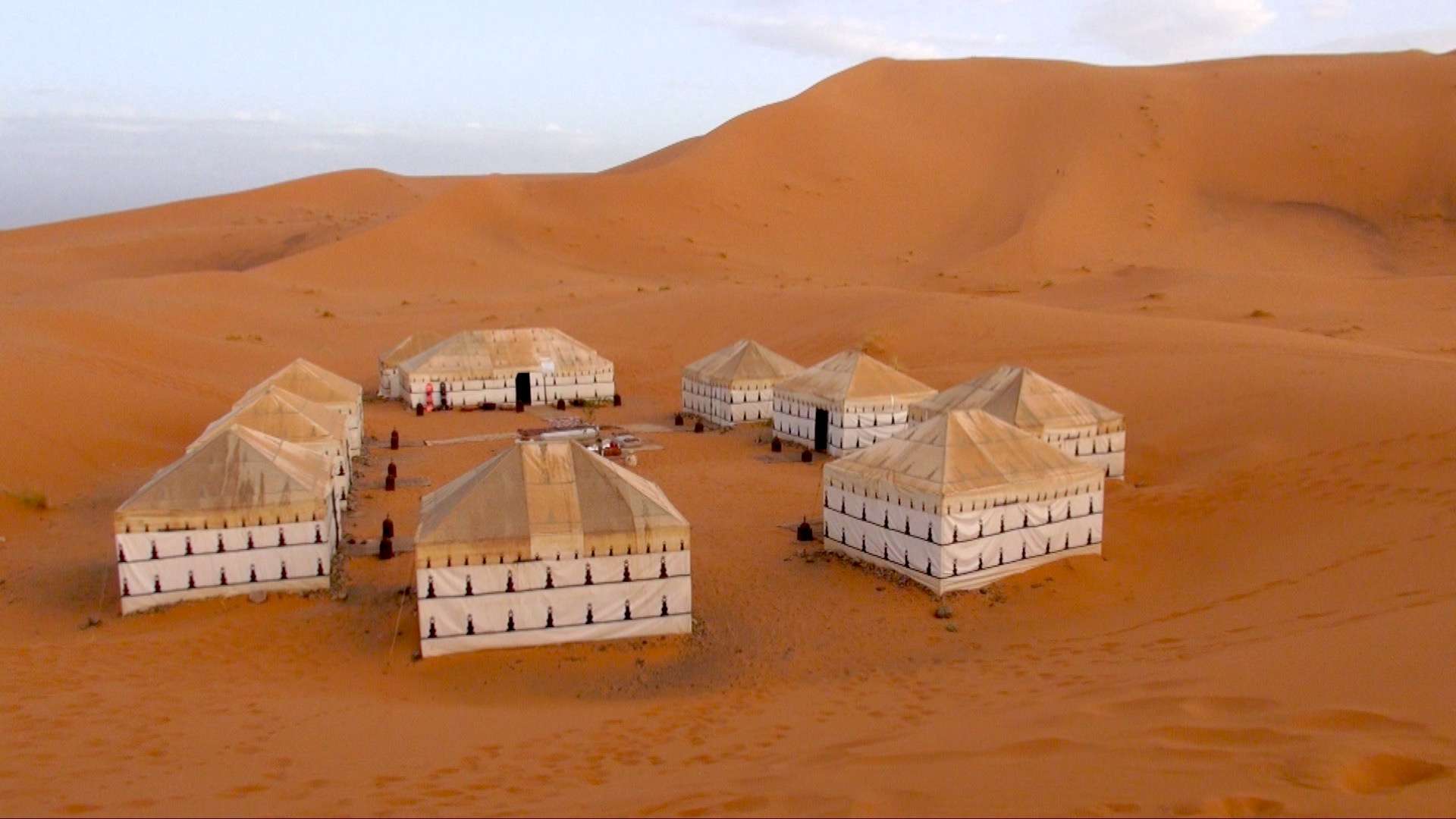 Inside the camp a large dining tent serving Moroccan culinary specialities after what is likely a long adventurous day travelling here. At night enjoy an evening filled with traditional Berber music under a spectacular moon or star-filled night sky. Dramatic sunrises and sunsets are another unmissable experiences to enjoy as part of your desert getaway.
The tents are constructed with Moroccan handmade materials and all of them are unique in décor. The camp is able to accommodate a maximum of 20 guests at any one time. No alcohol is sold here, but you are welcome to bring your own.
Activities such as camel rides, Sand baths (an ancient Berber treatment for rheumatism, the hot sand in direct contact with the body is said to be beneficial for the joints, bones, tendons and muscles), 4X4 dunes, Picnic in the desert, Quad excursions, Sandboarding, etc…
It was a very comfortable and luxurious camp, this wasn't roughing it at all. Many say they can't sleep in the desert because it is often too hot, however, I was lucky enough to be cool enough for a short nights sleep, even though it was under a moon filled sky where the landscape was as light as day, I would, however, like to return and complete my bucket list with a star-filled night sky instead.
At 6:30 I was ready to watch the sunrise over the dunes, a spectacular sight where the horizon fills with light and the heat of the day return. Desert Camp Bouchedor was a wonderful experience and one I would like to repeat again.
---