Pride London
Pride London is a registered charity which arranged LGBT events in London such as the annual gay pride parade.
The parade grew steadily each year attracting bigger crowds and more marchers. Since 2004 a political rally in Trafalgar Square has been held straight after the parade, and more recently Pride London has organised several other events in the centre of London on Pride Day including in 2006. The stated aim of Pride London is to produce a highly professional Pride Festival and an annual Pride Day comprising a Parade through central London, a politically based Rally and free entertainment in central London. The first UK Gay Pride Rally was held in London on the 1st July 1972 which had approximately 2000 participants. Pride London itself was formed in 2004.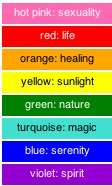 Drag Idol in Leicester Square, a women's stage in Soho and a party in Soho Square. In 1992 London was selected to hold the first Euro Pride with attendance put at 100,000, London again held Euro Pride in 2006 with an estimated 600,000 participants. In 2004 it was awarded registered charity status.
Since 2006 Regent Street and Oxford Street have been closed off to allow the parade to pass through. This is seen by many in the LGBT community as a sign of wider acceptance, although the parade once marched down Oxford Street illegally in protest in the 80s.
The LGBT rainbow flag or Gay pride flag is a symbol of LGBT pride and LGBT social movements in use since the 1970s. The colours reflect the diversity of the LGBT community, and the flag is often used as a symbol of gay pride in LGBT rights marches. It originated in the United States but is now used worldwide. Designed by San Francisco artist Gilbert Baker in 1978, the design has undergone several revisions. As of 2008, the most common variant consists of six stripes, with the colours red, orange, yellow, green, blue, and violet. The flag is commonly flown horizontally, with the red stripe on top, as the colours would appear in a natural rainbow.